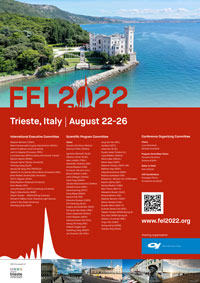 The Conference Program will cover the following topics: 
FEL Theory
SASE FEL
Seeded FEL
FEL oscillators & IR-FEL
Electron sources
Electron beam dynamics
Novel acceleration and FEL concepts
Electron diagnostics, timing, synchronization & controls
Photon beamline instrumentation & undulators
User experiments
End-to-end experiments (machine driven)
Abstract Submission
Steps to submit your abstract:
Please be sure you own a valid JACoW account from the JACoW Central Repository (the login name doesn't necessarily coincide with your email address. From the Central Repository it is also possible to reset your password by clicking the "Forgotten Password" button. However, you must enter your username to retrieve your password)
If you don't own a valid JACoW account, create an account at https://oraweb.cern.ch/pls/jacow/profile.html. 
Log into the FEL 2022 Indico system: https://indico.jacow.org/e/FEL2022
Choose Submit New Abstract to submit your abstract(s) and follow the submission instructions
Note: If your work is accepted for presentation, Title, authors and the abstract as you enter them, will be used in the program booklet, and later in the table of contents and author index of the proceedings to be published on JACoW. So, before submitting, e sure that the provided data are correct from the beginning of the process.
E-mail  This email address is being protected from spambots. You need JavaScript enabled to view it.This email address is being protected from spambots. You need JavaScript enabled to view it.if you have questions or difficulty in submitting an abstract.